Atlanta History Center honors first responders on the 20th Anniversary of the attacks that changed America in a special showing of a temporary exhibition curated by The National EMS Museum, Responding Heroes: Remembering September 11, 2001.
On September 11, 2001, the trajectory of the United States of America changed forever following the devastating terrorist attacks that killed thousands. Beyond those who lost their lives on the day, the first responders who charged into the towers to evacuate civilians, render aid, and dig through rubble to rescue survivors continue to experience negative physical and mental health effects. The twentieth anniversary of these attacks is explored in the temporary exhibition Responding Heroes: Remembering September 11, 2001.
The exhibit premiers at the Atlanta History Center from September 10, 2021, to October 17, 2021, Responding Heroes focuses on the experiences and memories of first responders, including firefighters, paramedics, and police officers. The National EMS Museum curated the exhibition for this anniversary showing in Atlanta.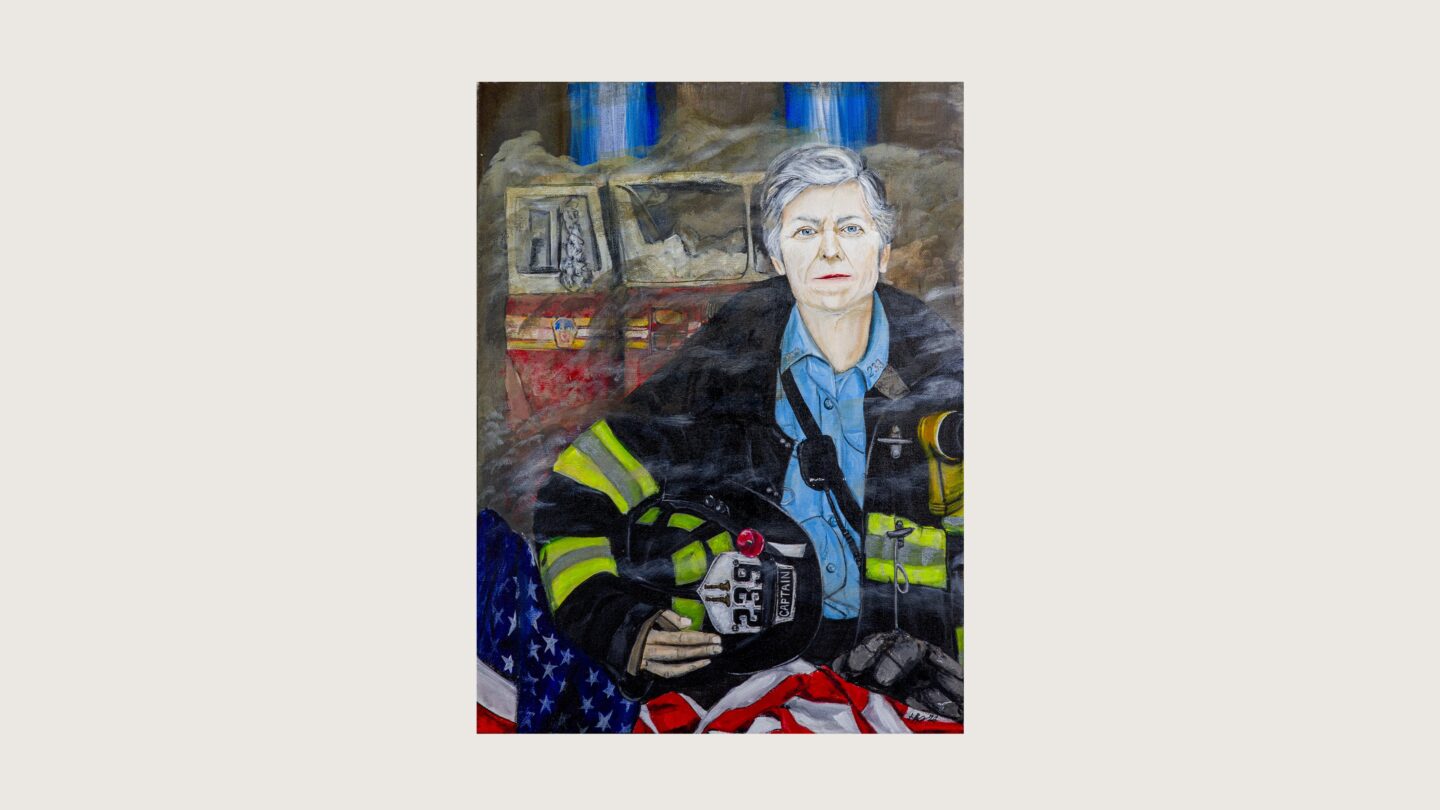 Brenda Berkman
Captain (Retired)
Fire Department of New York
Artist: Kate Bergen
Courtesy: The National EMS Museum
"I spent many hours riding with an Engine Company in the 18th Battalion in the Bronx early in my career. New York City was a home away from home, and I made lifelong friendships during my time in the city. When the attacks occurred, like many responders, my first call was to my Disaster Medical Response team: "When do we leave?" remembers Dr. Richard A. Clinchy, President of The National EMS Museum.
"It's been 20 years since that fateful day and I am honored that we could team up with the Atlanta History Center to ensure the voices of my friends and colleagues continue to live on through exhibitions like Responding Heroes. Through this partnership, we are able to fulfill our promise to NEVER FORGET and continue to tell the story of heroism and selfless devotion of those who responded on September 11th."
The exhibition features original artwork detailing the firsthand memories of paramedics and firefighters who responded to the attacks, as well as a timeline of the day's events and reflection space for visitors.
"This exhibition is unique. It was created specifically to be shown at Atlanta History Center, and focuses on the people who risked their lives to save others," Says Michael Rose, Chief Mission Officer, "The exhibition offers a chance for guests to reflect and honor everyone affected by this tragedy."
In addition to the physical exhibition, guests are also invited to share their own memories of September 11th through an online portal created by The National EMS Museum. Atlanta History Center will also be sharing related oral histories on our website during the month of September.
Atlanta History Center is open for visitation Tuesday-Sunday, 9 AM- 4 PM. Atlanta History Center is pleased to offer free admission to first responders the weekend of September 10- September 12, 2021. Please show your ID at the museum admissions desk. COVID-19 protocols are in place.
Atlanta History Center
130 West Paces Ferry Rd NW
Atlanta, GA 30305
(404) 814-4000